Stopping
incorrect payments

with Xelix is easy

On average, 0.4% of company spend is lost to duplicate payments and 1% of invoices will contain posting issues that could result in payment errors. When you add the risk of fraud – driven by vendors, employees, or hackers – companies are fighting a daily battle. Xelix uses the latest AI to analyse over 400 data points per invoice, along with master vendor data, to surface a wide range of risks including duplicates, currency errors, misapplied tax, fraudulent activity and more, in near real-time. Unlike Excel or less sophisticated systems, Xelix has been optimised for accuracy - meaning your team aren't wasting time investigating legitimate transactions.

Login to Xelix, review the results and action the findings. It's really that easy.

Typically, our customers achieve ROI on day one with Xelix through our historic payments audit and upwards of 5x ROI through ongoing payables monitoring within the first year.
Why choose Xelix for overpayment and fraud prevention
Take control

of your cashflow 💸

On average, organisations are losing up to 1% of spend to posting and payment mistakes; meanwhile recovery audit firms are taking 10-20% commission on recouped overpayments. Xelix helps you stop these losses by highlighting payment errors before the pay run.

Accuracy

without the all-nighters 🌙

Whether it's spotting incorrect sales tax, detecting duplicate payments, or finding fraudulent invoices, Xelix's accuracy rate is unmatched. The combination of in-platform feedback buttons and analysis of your historic transactions enables our tool to learn the trends and nuances of your data. This means your team will no longer waste time investigating legitimate transactions (over and over again).

Across the board

protection

🔒

Whether you're migrating ERPs or have various systems across your organisation, Xelix has you covered. By plugging Xelix into all ERP and AP systems, you get full visibility into your payables activity and can enjoy protection across the board, even when you're most at risk.

Build

your business case 💪

The day you go live with Xelix, we provide a free audit of your historic payments. Typically, losses recovered from this exercise pays for the Xelix platform many times over. What's more, reduce audit time from hours to minutes and focus your newly-freed time on value-adding initiatives.

Supercharge

your processes…

By highlighting risks and sharing root-cause analysis, Xelix helps you pinpoint the source of your problems, enabling you to make process improvements that enhance Accounts Payable efficiency.

...and

upskill your team

🥇

As well as highlighting opportunities for process improvements, Xelix shines a light on training gaps. Our customers love this insight as it helps them improve, increasing both team morale and job satisfaction.
Liberty Global and Xelix
Liberty Global is a Shared Service Centre focused on finance operations for its ten telecoms customers, including Virgin Media. Hear from Dani Peel, Senior Transformation Manager, as she discusses the results Xelix has driven for her team.
Complete hours of work in minutes
Audit
Using advanced AI and Machine Learning, Xelix identifies invoice threats and errors in the moment.
Access
Access results through our cloud-based platform. Exceptions are sorted by risk-rating and include all the relevant information for quick and easy investigation.
Customised, real-time email alerts can be switched on if required.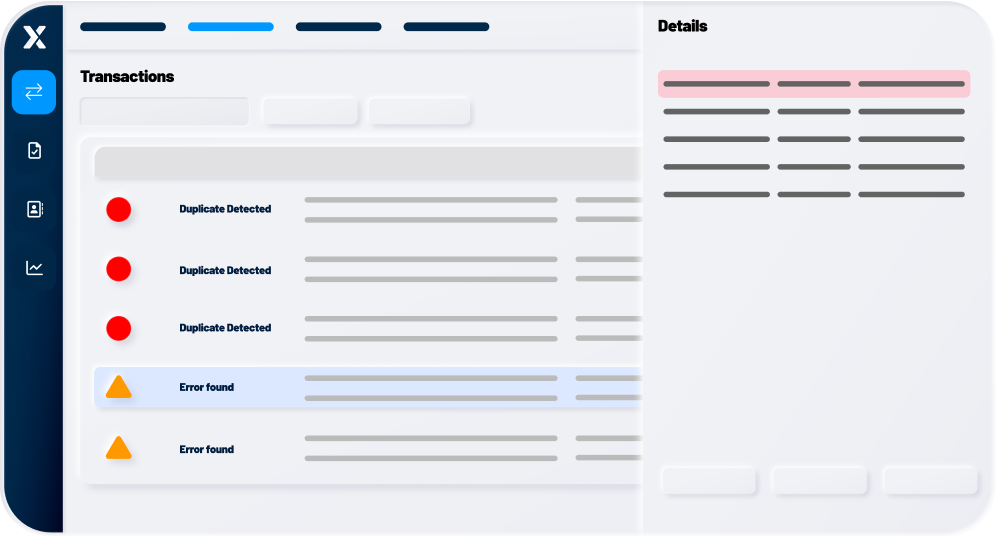 Action
The Xelix workflow enables users to manage exceptions effectively. Managers can assign items for team members to manage, update and resolve.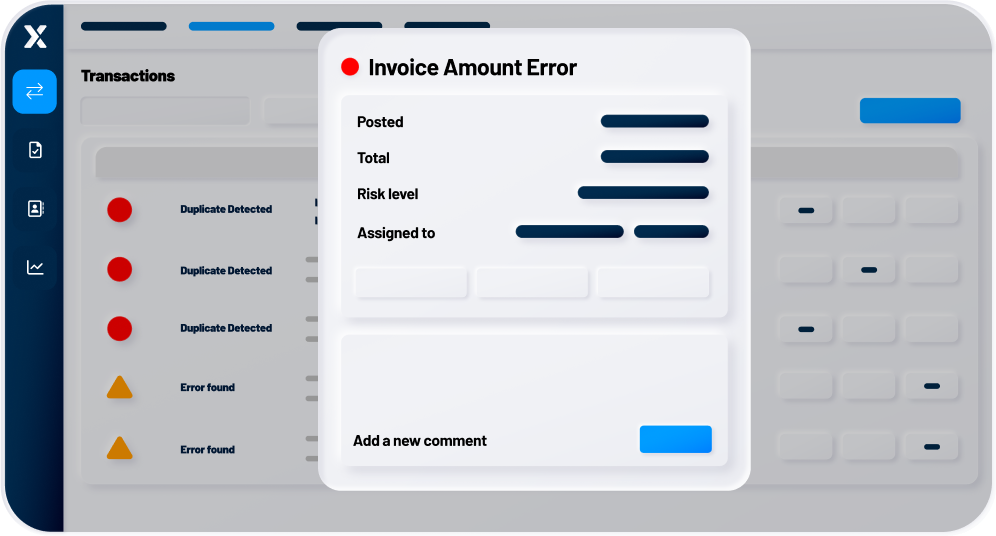 Analyse
Access high
-
level analytics to track activity and trends, as well as identify process improvement opportunities. Get immediate access to data through Xelix's pre-built graphs, charts, and tables
,
or build your own through our easy-to-use reporting suite.

Transactions Manager PTP
McBride
"We previously did duplicate checks manually by extracting listings from our ERP system, SAP. Xelix checks multiple fields (unlike SAP) and therefore adds an extra level of control. A lot of admin work is saved in addition to the financial benefits of stopping duplicate payments or payments to wrong suppliers."
Read the full story
Continuous Improvement Manager
Euro Car Parts
"Straightaway Xelix was visually appealing. But the thing that got us most was how it learned. It understood what a real duplicate was and what wasn't. It didn't waste our time. That was enough to win our board over. It was a no-brainer. We knew we'd prevent more with Xelix, even with Coupa in place."
Read the full story
Procure-to-Pay Manager
ELFS Shared Services
"There was much bias towards our (at the time) current provider because, fundamentally, it did the job. And moving to a new product is always risky. But Xelix really worked hard with us. First, they provided a test system, free of charge. We put our real data into this, comparing results with the existing platform. Xelix was clearly surfacing more accurate results. This helped us justify our move to the board."
Read the full story
Content that may catch your eye